Our most valuable proprietary system that incorporates all of Recover´s expertise in fiber recycling. RColorBlend fibers are delivered ready to be spun, without the need of blending or dyeing.
50% Recover™ Recycled Cotton
50% Organic Cotton
The Recover™ Lab
Our RColorBlend products go through several intimate blending processes in our laboratory until achieving the perfect combination of performance and color matching accuracy. The RColorBlend recipes developed in the lab are later reproduced on an industrial scale.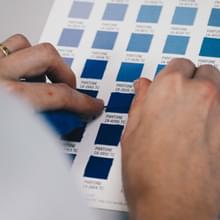 We receive an estimation of textile waste periodically, with the possible colors to develop our RColorBlend products.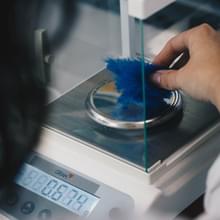 According to the available stock, we create a catalogue of possible colors using a carrier fiber, to follow market trends and respond the brands' demands.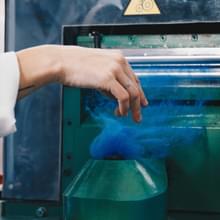 The Lab Team (also called Kitchen) makes a series of tests and blends to create the needed color (blending RCotton with organic cotton or recycled polyester). The carrier fiber is colored or natural depending on the desired final color.
The final recipe is adapted to an industrial scale, ready for production.
The RColorBlend process
Recover™ dye-free fiber is blended with other carriers' fibers that have been low-impact dyed to create new RColorBlend fibers. RColorBlend fibers are delivered ready to be spun, without the need of blending or dyeing.
Sustainability
According to the Recover™ LCA Spain verified by EcoReview (2022), 1kg of 100% Recover™ recycled cotton save up to:
Water
2 116 liters

(559 US gallons)
Performance
Recover's data has been verified and scored by the Higg Materials Sustainability Index (MSI) that enables stakeholders of the textiles industry to measure and score the environmental impact of their materials and products.
These results were calculated using the Higg MSI Methodology and Data Version 3.6 - Last updated: June 2023 - (Higg MSI at msi.higg.org) developed by the Sustainable Apparel Coalition (SAC). They were calculated by Recover™ and are not verified.
Certifications
As leaders in sustainability, we commit to improving the environmental performance of our products and solutions. We are third party certified and aligned with the industry standards.
Global Recycled Standard (GRS)
Organic Content Standard (OCS)