Home > EuRIC (European Recycling Industries'...
EuRIC (European Recycling Industries' Confederation)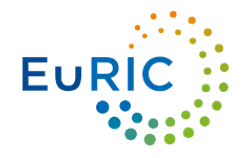 Objective
EuRIC Textiles (European Recycling Industries' Confederation) primarily focuses on promoting, representing, and protecting the collective interests of the European textile reuse and recycling industry. EuRIC Textiles' members come from various European countries and are active in the collection, sorting, preparation for re-use, recycling, transportation, and marketing of used textiles, shoes, and accessories. In addition to this, EuRIC Textiles seeks to cultivate collaborative ties with the textile industry to explore mutual objectives.
Recover™ Role/Commitment
Through this collaboration, Recover™ can play a crucial role in shaping key EU policies and regulations that impact the recycling sector. We participate in working groups to formulate industry positions and acquire legal and technical support on EU regulatory matters. Additionally, our involvement in EuRIC Textiles enables us to take part in high-level European recycling events, providing a platform for engagement among industry leaders, policymakers, and innovators to explore the path toward a more sustainable and circular textile sector.